Powell Shores Lodge
Munising Michigan
Completely furnished first-class retreat which boasts a 100 acre spring fed lake is available for your next adventure. Our lodge sits on a small bluff crowning Powell Lake. Our lodge is a modern, clean, completely furnished 3 bedroom house.
Snowmobilers Delight
Munising Michigan is known as the "Snowmobile Capital of the World"! Miles and miles of groomed trails connect the forests and towns.
Summer Sun Deckview
Our Lodge is fully furnished, with an open kitchen and 10 x 20 deck with gas BBQ, lawn chairs and picnic table for your enjoyment. The beach provides excellent swimming with the beach gently sloping into the lake.
Spectacular Fall Colors
As the seasons change, the colors turn which add to the incredible experiences the Munising area sites provide. Enjoy the Pictured Rocks Boat Cruise, voted #1 Boat Cruise in Michigan
Excellent Fishing & Game
The Hiawatha Forest and connected waters of Lake Superior and Lake Michigan contribute to some of the best fishing in the world, drop in or row out, the lake is calling.
Rates
***RATES SUBJECT TO CHANGE AT ANYTIME***
$950 WEEKLY
$150 A NIGHT ( 3 night minimum)

Motor package $75 weekly
Kayak rentals $50 a week per kayak

$25 dollar pet cleaning fee
$50 dollar cleaning fee
*** RATES SUBJECT TO CHANGE AT ANYTIME ***
** Michigan Sales Tax of 6%**
Fully Furnished

The Kitchen has pots, pans, silverware, coffee maker, blender, microwave,stove, fridge,etc.
The livingroom has a large couch, recliners, small library, and sleeper couch. We have satellite television and a stereo and vcr for your enjoyment too.

Propane Fireplace

The lodge has free movie videos and a propane fireplace. Loft area has 3 single beds and seperate satellite tv. Its 14 by 32 so offers a getaway for kids or privacy for adults. The bathroom is complete with shower and towels. The master bedroom has a queen size bed. The guest room has a queen size bed. There is a pull out bed that is also available. The lodge very comfortably sleeps 6 adults and has forced air heat.

sled at your leisure

No need to travel to the North Pole for some of the best winter recreation anywhere, Munising and Alger County has it. Snowmobile from your front door.

Pets are generally welcome But...

check with us when making your reservation. Due to the family atmosphere on the lake NO RV hook-ups are allowed. For a family oriented quiet, peaceful and no worry vacation Powell Shores Lodge awaits you.
Powell Shores Lodge is located in the Hiawatha National Forest which provides almost 1 million acres of public lands to play in. You can find solitary spots where you'll have the shore or woods all to yourself and be the only visitor the whole day. It offers a wide variety of outdoor sports including snowmobile trail access right across the road from the lodge.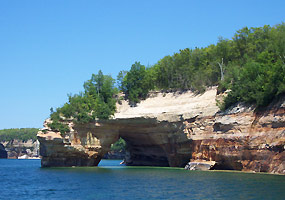 We are only 6 miles from the Pictured Rocks National Lakeshore. The rugged rock castles loom above Lake Superior ever-changing colorful embers of red, yellow, gray and green can be seen as Miss Munising plows through cobalt blue waters of Lake Superior. The 40 plus miles of lake-shore is a national refuge. Come and explore the sandstone cliffs and the pictured rocks of the lake-shore on the Pictured Rocks Boat Tour.
Munising also offers the Grand Island Recreation area and Alger Underwater Preserve for diving and boating enthusiasts. The preserve is a haven for divers and snorkelers with dives from 10 ft. below the surface to well over 100 ft.
Dog Sled Tours. Dogsledding with Superior Dog Sled Tours.
---
There are 300 waterfalls that rush through Michigans Upper Peninsula. You can drive and hike to cascades splashing gently in Munising and surrounding areas. Alger county offers some of the most scenic waterfalls in the United States. The waterfalls have both primitive settings and modern accessible locations.
There are boat tours, air plane tours and hiking trails that offer excellent views of the lake-shore and underwater shipwrecks in our area.
The Glass Bottom Boat Tour is a narrated boat cruise around Munising bay that displays our area shipwrecks and scenery around Grand Island. The Seney Wildlife Refuge is only a short drive away. Enjoy a peaceful drive through the refuge and observe some of the splendor that it has to offer.
---
Some 200 varieties of birds and 45 kinds of animals make their homes in the 95,000 acre wilderness preserve.
Allow yourself a tleast one hour for the 7 mile drive around the refuge. Bring your mountain bike if you would like to explore the 57 miles of trails in the preserve.
Kewadin casino's are only 10 miles away in Christmas. For the poker player or slot machine jockey Kewadin awaits you.
---
The Munising area receives over 200" of snow a year which has made this area the snowmobile mecca of the the great lake states.
Our 5 plus months of winter offers all winter recreationalists a fine area to do it in. Ice climbers,snowmobilers,cross country skiers,snow shoer's and ice fisherman, Alger County awaits you. For fishermen and women our area boasts well over 200 lakes, streams and destinations to fish and explore.
We're only 6 miles from Munising off of H-13 on Powell Lake Road. If you're tired of cramped hunting conditions in your area try the Upper Peninsula and hang your buck from our buck pole at the lodge. We have millions of acres open to the public to hunt. Whether you prefer rabbit, deer, grouse, woodcock or waterfowl, the Upper Peninsula is the location for you. Fall brings quiet days and brilliant hues of color to the Upper Peninsula. Crimsons and golds light up the Hiawatha National Forest and the whole northern region.
---
Snowmobilers, for more information about snowmobile trails and access routes within the Hiawatha National Forest and Pictured Rocks National Lake-shore,
Click Here
.
If your sport is cross country skiing or mountain biking, check out the links at the bottom of the snowmobile trail link above. Lots of good information on that website.
Get in Touch with Your Host
Todd DeJong P.O. Box 171, Wetmore Mi 49895